| | |
| --- | --- |
| Posted on March 12, 2020 at 11:05 AM | |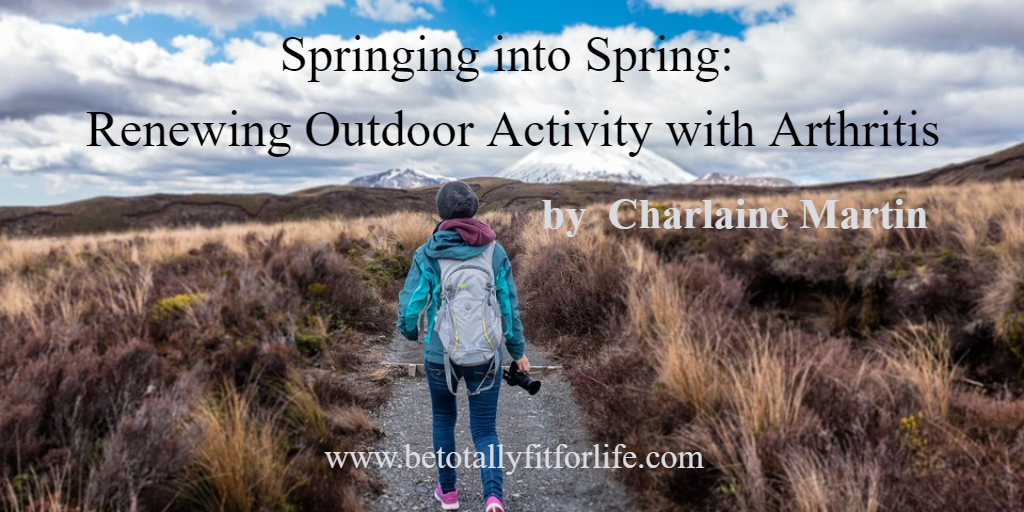 Image by Free-Photos from Pixabay.
Spring brings warmer temperatures with variable weather patterns. I've been feeling those variations lately with painful, inflamed joints. It is raining outside this morning, causing stiffness, pressure inside the joints of my hands and feet, and they are red and puffy. Making a fist is difficult. Walking barefoot is ouchy. Days like this make most people with arthritis wince at the thought of exercise. Even with arthritis, exercise, and physical activity outdoors can help reduce disability related to arthritis when done with specific tips in mind (WebMD).
Tips for Safe Exercise and Outdoor Activity with Arthritis
When I led Arthritis Foundation exercise and Self-Help classes, I gained a valuable tool box of helps for fibromyalgia and arthritis that I currently use today. Here are several tips from many sources that might benefit you:
1. Find out what activities are safe for you to do. Observe any modifications or limitations recommended by your healthcare provider. This blog post should not be construed as medical advice but used for informational purposes only.
2. Take medications as directed. Your doctor prescribed medicines to help control your arthritic conditions. Please, do not discontinue taking them without talking with your doctor. Taking pain meds about one hour before exercise, if possible, can be useful in reducing pain and swelling during activity.
3. Wear well-fitting shoes made for your activity (i.e., walking, running, cross-training). You will need shoes with support and cushion to protect lower body joints and back (Healthline)..
4. Wear comfortable clothing that wicks moisture and makes movement easy (Healthline). Damp cold clothing from sweat is very uncomfortable and could cause chilling. Also, tight binding clothing can restrict movement. You want to enjoy the activity!
5. Use sunscreen, a hat, and eye protection. Avoid peak heat and sun times of the day. Some arthritis types and the accompanying medications cause sun sensitivity. I wear UV protective clothing and use sunscreen on exposed areas when the UV index is high, and I am out in the sun for an extended amount of time.(Lupus.org).
6. If gardening, yard work, or specific activity that uses joint-friendly tools or equipment:
a. Use ergonomic, soft-grip handles on gardening tools, golf clubs, and bicycle handles. I have several tools with cushioned grips. I also use a garden scooter that is low with a comfortable seat and a basket carrier on the back so I don't have to kneel.
b. Use a kneeling cushion or cushioned seat for gardening. You might consider using elevated raised beds for your garden, so you reduce the risk of falls.
c. Use back-saving totes and carry bags. The handles are cushioned and rest across several joints of the hand, shoulder, and back to avoid             overloading one or two vulnerable joints. Use proper lifting techniques or find totes or bags with wheels.
7. Wear backpacks with wide comfortable straps worn on both sides protects your shoulders and back when hiking. Take a walking stick for           better balance on uneven terrain (Arthritis, Nordic Walking).
8. If cycling, find a bicycle that fits your needs. Riding on well-lit, well-paved trails is safer than riding on the street or road. If you have balance issues, there are specific bicycles that take the concern of falling out of your mind. Wear a helmet, bicycle gloves, and take a water bottle.
9. Balance loads you carry on both sides of the body. Instead of carrying everything at once and mostly on one side, make more than one trip and carry loads on both sides of the body to reduce wear on painful joints.
10. Prepare for inclement weather or find indoor activities instead. People with Raynaud's Syndrome are particularly vulnerable to cold, rainy days. Wear rain gear and clothing, hats, gloves, and shoes that keep you warm and dry.
9. Take time to gently stretch after you finish activity (CDC, WebMD). Relaxing the muscles surrounding painful, damaged joints reduces pain levels and help reduce the risk of injury.
10. Pace yourself and take rest breaks (Healthline). You will be able to enjoy your activity more if you don't wear yourself out or cause yourself so much pain that you have to quit early.
On bad arthritis days, take it easy. Any activity that pulls against or puts a lot of pressure on your sensitive joints can wait until a better day. Painful joints need protection from substantial impact or heavy loads. Inflamed joints need gentle movement rather than higher energy heavy-load work. When inflamed, you will probably be exhausted anyway since your immune system is active, so alternate any work you do with rest breaks as your body tolerates. Try gentle range of movement exercises to reduce stiffness (Arthritis, Gentle Moves).
If you have pain after your activity, then modifying or changing activities the next time may help reduce severe, stabbing, throbbing pain, redness, swelling, and limping. Some achiness that lasts less than an hour after exercise may be normal for you but talk with your doctor about pain guidelines (CDC).
Questions: What outdoor activities do you enjoy? How to you manage your arthritis condition to prevent being side-lined from what you love to do?
Outdoor activities are an excellent way for people with arthritis to get exercise and feel better. Hopefully, these tips help you have a great time moving outdoors. May God bless you!
 Resources:
"Gentle Moves for Rest Days" By Mary Anne Dunkin, Healthy Living. Arthritis Foundation. https: //arthritis.org/health-wellness/healthy-living/physical-activity/other-activities/gentle-moves-for-rest-days
"Vigorous Activities Cuts Arthritis Disabilities" By Miranda Hitti. WebMD. https: //www.webmd.com/arthritis/news/20050407/vigorous-activity-cuts-arthritis-diabilities#1
" Why Try Nordic Walking" By Sean Kelley. Arthritis Foundation. https: //arthritis.org/health-wellness/healthy-living/physical-activity/walking/why-try-nordic-walking
Arthritis Basics: A Physical Activity Overview" CDC. https: //www.cdc.gov/arthritis/basics/physical-activity-overview.html
"Enjoy Outdoors with Rheumatoid Arthritis" by Gina Mara. Healthline. https: //www.healthline.com/health/rheumatoid-arthritis/enjoy-outdoors-with-rheumatoid-arthritis#7
"UV Exposure: What You Need to Know" Lupus Foundation of America. https: //www.lupus.org/resources/uv-exposure-what-you-need-to-know

Categories: health, special health conditions, fitness