| | |
| --- | --- |
| Posted on May 21, 2019 at 3:15 AM | |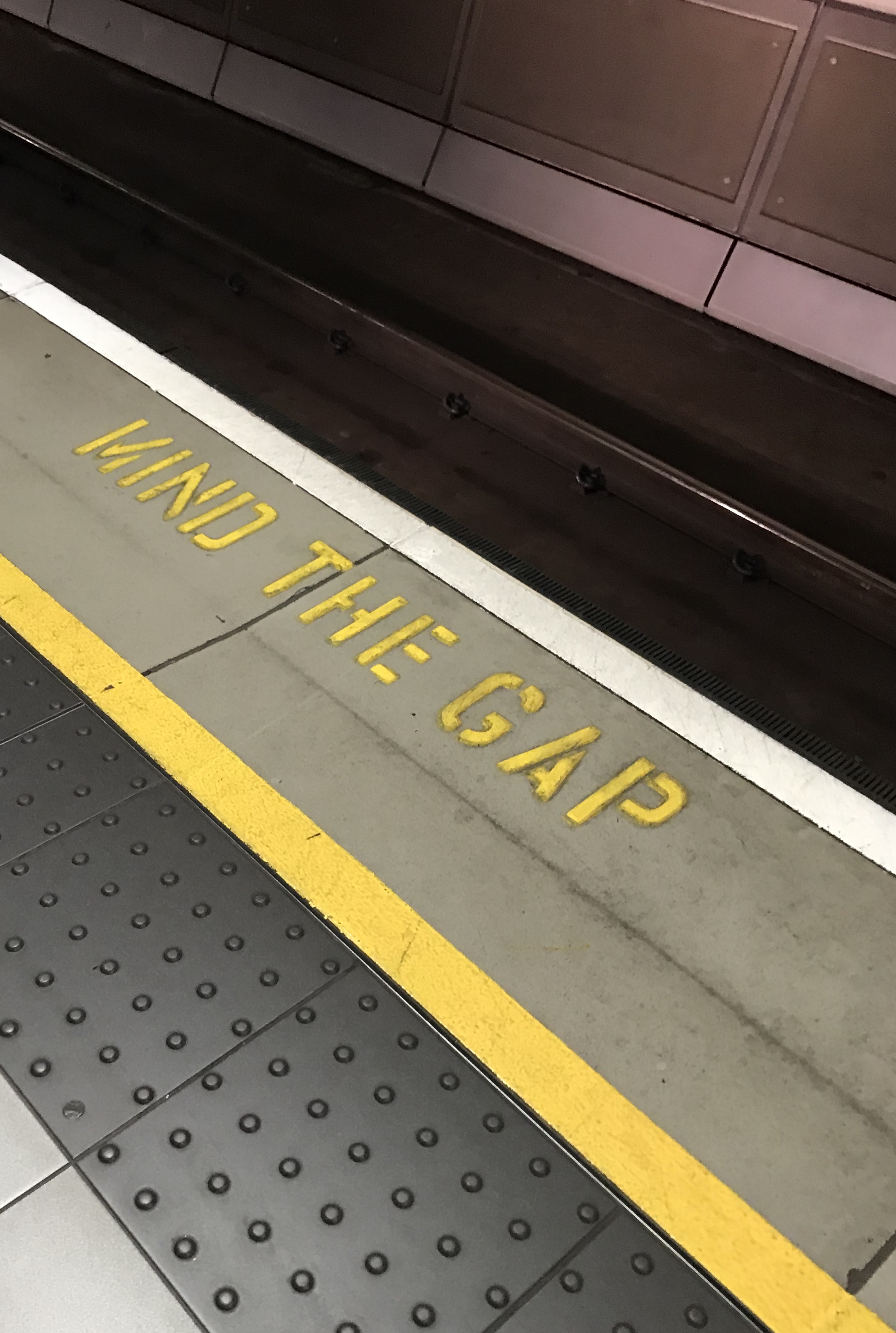 Photo by Charlaine Martin. All rights reserved.
So, we are currently in London, UK. It is a very interesting place. Taking the Underground, also known as The Tube, is considered active transportation. This means that you have to walk or ride your bike to take the subway, train, or bus to a location that is too far to walk or ride your bike. By taking the Tube, I racked up quite a number of steps. Also, there are steps going in and out of the Underground stations. Unlike commuters who drive for an hour or more each way for work, these people get quite a bit of exercise as the walk from home to station to work, often carrying bags and backpacks. Many cycle and use scooters as well. The obesity rate for active transportation workers is lower than their commuting counterparts. 
One thing we can't ever forget because of riding the Tube (subway) is to "Mind the Gap". It is painted on the platform at every station, warning Tube travelers to be careful so they don't step between the platform and the step on the subway train. It also warns those waiting to not accidently step off the edge onto the tracks where they could be run over by an oncoming train. We hear it when every stop is announced. At home, we would say,"Watch Your Step."
I thought about this phrase during as we snaked around bends, on our way to see Westminster Abbey and the House of Parliament. What else could we use Mind the Gap to help us remember something important as believers? First, remember that the British verb mind means to watch out for, to take care of, or pay attention to, according to the Cambridge Dictionary. The term Gap means an empty space or a space between two things, but also the difference between, and a period of time doing something different. So, here a a few ideas of how we could use Mind the Gap for us as Believers:
1. Mind the Gap between us and those who believe differently by being attentive to non believers. Pay attention to others who believe differently than ourselves. We can build better relationships with those who don't know Christ this way and have a better opportunity to share Christ with them (1 Peter 3:15, Matthew 5:16).
2. Mind the Gap by learning from more mature believers (Titus 2:3-5) and by being sensitive to the stumbling blocks we could put before less mature believers (Romans 14:13-23). Be aware of the difference in spiritual maturity between yourself and others.
3. Mind the Gap by not falling into temptation when helping someone out of sin (Galatians 6:1). Be careful of the gap between believers and non-believer by not stepping into territory that could cause you to sin.
4. Mind the Gap between your own economic situation and those who are in need. Offer assistance personally or give to charities who help those in need without bragging (Proverbs 28:7, 1 Corinthians 13:3). Care for the needs of others when you have plenty.
5. Mind the Gap by keeping a larger gap between our bellies and the table. Eat healthier, lower calorie foods and get exercise as an act of personal stewardship. Be aware of the gap between you and the table.
6. Mind the Gap with God by attending to your relationship with Him (James 4:8, John 10:27).Be attentive to your realtionship with God by spending time with Him in prayer, Bible study, and worship.
As you consider the phrase, Mind the Gap, what other ideas do you have? Feel free to share your thoughts in the comments below.
May God bless you!
Categories: faith, Bible Studies, devotions