| | |
| --- | --- |
| Posted on May 22, 2020 at 7:30 AM | |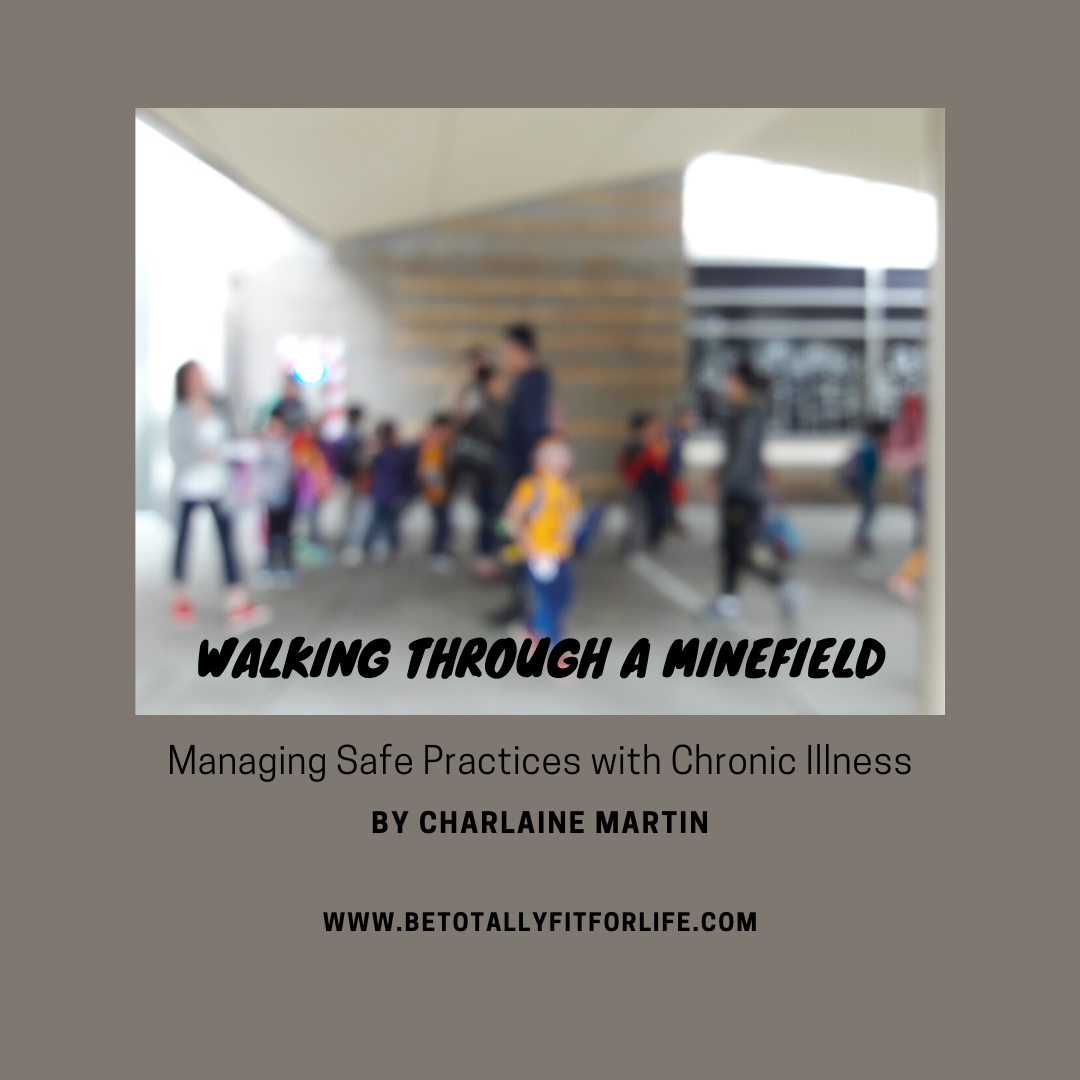 Photo by Wonderlane on Unsplash

Thank you for continuing with me this month as I've focused on specific health conditions. I hope you have been encouraged, or someone you know. with fibromyalgia, autoimmune diseases like Mixed Connective Tissue Disease, Lupus, Rheumatoid Arthritis, Celiac Disease, and many other chronic pain and fatigue conditions.  I've received some positive responses from a number of people on social media throughout the month. My hope is to create a greater understanding through the blog posts and memes.
The most significant concern on a lot of people's minds is how to move forward as states begin to slowly open up. Please, consult with your healthcare provider about your concerns because this post is for informational purposes only. I will share what it's been like for me and what my own plans are.
Yesterday, I went to the grocery store because I was tired of having to schedule my grocery curbside pick up for more than a whole week ahead. Not only that, I only received about one half of my order, since giving the store acceptable substitutes with my allergies was difficult. I only needed a few items, so I shopped in the early afternoon. Much to my dismay, many shoppers in the store didn't wear masks. Several did. Some employees had masks either around their necks or below their noses as they stood gabbing in the aisles with each other. I found myself feeling a bit paranoid wearing the N-95 mask I use when I have to deal with my dust mite allergy. Thankfully, I could dodge and weave around these brazen individuals. One, in particular, was a 30-something woman who seemed unconcerned about social distancing. I, on the other hand, was determined to maintain it or boldly tell her to back away. I was successful, but it was so disheartening that people like this are more concerned about their freedoms than helping everyone stay safe from COVID-19.
Moving Forward with Caution
Attitudes here in Michigan aren't favorable with the Stay-at-Home Orders our Governor made. Neither is the progressive opening of our state accepted with open arms. The rebellious self-focus greatly concerns me. I do sympathize with those who have lost incomes, but churches and emergency systems are available for them. How many people have to die before the reality of this virus finally sinks in? Cancer patients with low white cell counts, people with HIV, and those on immunosuppressants are at significant risk. So are people with breathing problems, heart disease, obesity, and more. I suppose it will be a matter of time before it personally affects them. For us, we are already keenly aware of our mortality. I, for one, will proceed with caution because it will be like walking through a minefield.
As a first responder, I can attest that specific masks and gloves protect not only the wearer but also the people around them. We were well-trained to be careful of blood-borne pathogens. Blood can spew into the air with some wounds. We had to assume everyone had HIV, SARS, and other scary diseases. These viruses also spread through saliva. People spit when they talk.Those droplets are small most of the time, but a good mask with filtration reduces the risk of being infected or infecting someone else. Cloth face covers like neck gaiters are not good protection. I will continue wearing a mask in public until the all-clear has sounded by those monitoring the Coronvirus activity. I just saw a Menards ad that has filtration masks in boxes of 50. They limit two boxes per customer. These masks can be effective if the sides don't gape. If they do, then a cloth, like a large handkerchief or neck gaiter, would help. I'm considering a face shield to prevent getting this awful virus as more people go without masks in public. Paranoid? Maybe, but safe it good when so many people have the illness without showing symptoms.
As far as the gloves go, if you put them on correctly, you don't share your germs, but the viruses that are already in your surroundings. In the case of the store, if you put them on just before you go in, anything you touch in the store that has germs are the germs that spread. The people without them are sharing their own and what is already there. If COVID-19 is present, you want to leave it in the store. Click here to see how to properly remove gloves https://www.youtube.com/watch?v=cxfbYvbtH4k. Toss the gloves in the trash outside the store, or put in plastic bag and tie handles together to toss in your trash that goes out to the curb. Sanitize your hands before you touch your door handle or steering wheel. Use sanitizing wipes on your purse, wallet, car door handles and anything else you touched. Sanitize everything you bought, let it sit for a while in the garage or entry way before taking into your home. Be careful with your mail and packages. We wipe everything down with a sanitizing wipe or spritz with rubbing alcohol allowing to dry before opening and bringing it into our home. This is the plan we've followed at our house and will continue to follow.
How to Find Peace in Chaos
Even though I know Jesus as my Savior and know I will spend eternity with Him when I die, I don't feel ready to die. I want to see my grandchildren grow up and start families of their own. I want to see my Boaz enjoy retirement. I don't want him to lose me early, but grow old together. I want my mother to see Jesus, not another one of her children die before her time to go. I don't want my adult children to lose another parent too early. Their grief would be unbearable. I want to publish the books I've started. There are many more moments with family and friends I want to enjoy before I go. Of course, God has numbered our days (Psalm 39:4-7). He is God. May He calm our fears so we might use wisdom in this Pandemic shining the Light of Jesus in this dark world. "Be still and know that I am God." Psalm 46:10. Be calm while practicing due diligence. We have hope with no need to fear. Lord Jesus, protect us and calm our hearts that we may walk wisely in this craziness. In Your Name, Amen.
Resources for Consideration:
Wearing A Mask To Reduce The Spread Of Coronavirus Will Not Give You Carbon Dioxide Poisoning by Victoria Forster. Forbes.com. May 12, 2020.
COVID-19: How much protection do face masks offer? by Mayo Clinic Staff. Mayo Clinic. May 19, 2020.
Face shields a more effective deterrent to COVID? by E.J. Mundell. WebMD. April 30, 2020.
https://www.consumerreports.org/food-shopping/how-to-protect-yourself-from-coronavirus-when-grocery-shopping/" target="_blank">How to Protect Yourself From Coronavirus When Grocery Shopping by Toby Stanger. Consumer Reports. April 30,2020.
Here's How to Clean Your Groceries During the COVID-19 Outbreak by Written by Shawn Radcliff. Healthline.com. March 30, 2020.
Coronavirus (COVID-19): What People With Asthma Need to Know, by Allergy and Athma Foundation of America. May21 ,2020.
Categories: special health conditions, health, wellness