| | |
| --- | --- |
| Posted on May 15, 2020 at 8:55 AM | |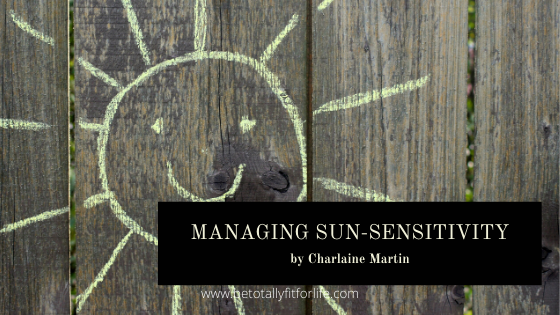 Image by Alicia on Pixabay.
(Also Preventing Melanoma for Skin Cancer Awareness)
I've been sun sensitive since I was a teenager, before the advent of sunscreen. Remember that baby oil tanning? Whoa! I'm surprised we survived that experience! I used to break out in a terrible red itchy, burny rash wherever my skin was exposed to the sun. They used to call it sun poisoning. At any rate, when sunscreen came out, it helped for short durations. Then UPF 30 was awesome! I could stay out in the sun longer without a rash or burn. Not any more. In fact, I came back into the house yesterday after working in the garden, feeling utter exhaustion before I usually should. Why? I think my jeans and garden gloves didn't keep out enough of the UVA/UVB rays from the sun, but I know my UV protective shirt, hat, and sunglasses did their job. Sun sensitivity is a huge issue.
As for the "photo" part, I've always sneezed when the sun gets in my eyes. Within the past few years, I noticed visual sensitivity to certain types of light and sunlight. Where I am around a lot of fluorescent lighting, an abundance of twinkle lights in Christmas displays, and lengthy exposure to bright sunlight-- even with my Transitions lenses-- I get visual distortion that drains me of energy which causes brain fog. When it's terrible, I feel an awful sensation around my heart. Sometimes, I have terrible migraines from these. So, I've had to take drastic action to prevent additional symptoms from taking up residence damaging my body. This same issue is true for so many people with autoimmune diseases.
The Lowdown on Sun- and Photo-Sensitivity
People with fibromyalgia and autoimmune diseases, especially lupus, scleroderma, and mixed connective (collagen vascular) disease, are often sensitive to the sun's UV rays and some types of light. Certain medications can cause sensitivity, like chemotherapy for cancer and meds for autoimmune conditions. People who have melanoma and other forms of skin cancer must avoid exposure to the sun to prevent the re-occurrence of skin cancer. A lack of certain vitamins can also cause light sensitivity. It is our immune system's response to these light sources that trigger an adverse reaction.
For people with autoimmune disease, it can often trigger a flare that attacks the skin, eyes, and some organs even long after the sun exposure is passed (Benaroya Research). For someone like me, my body's response to sun exposure can lead to the development of another autoimmune disease. It could also turn the current symptoms of lupus and scleroderma into a full-blown development of one of these diseases. When my doctor told me to AVOID THE SUN, he wasn't kidding! 
Coping with Photo-Sensitivity
I'm certainly not a pro yet when it comes to handling sun exposure gracefully. I have learned and implemented several sun survival strategies that may be beneficial to anyone who needs to avoid the damaging effects of the sun's rays.
1. Cover up. The notion of smearing my whole body in sunscreen after my morning shower isn't enticing. First, it feels greasy no matter what the sunscreen companies do to prevent it. Second, sunscreen, especially using a good sunscreen SPF 50 and higher year around. So, I discovered UPF (sun protective) clothing. At first, the prices were scary until I found different outlets and discount shopping websites. I found UPF 30-50 clothing, with fabric specially treated, to block out 95%+ of the UVA/UVB rays of the sun. Many are moisture-wicking and cooling. I've slowly added to my stock of hats, gloves, neck gaiters, shirts, pants, and a couple of dresses. When I researched the effectiveness of these fabrics against regular clothing fabrics, they are more effective than your basic long sleeve t-shirt (NIH). However, the NIH found that Hanes Beefy t-shirts are just effective at blocking the sun's rays. Can you imagine wearing one of those with your jeans in July and August? No, thanks! A list of companies is provided with links below. By the way, you will have to wear sunscreen on any areas of your body exposed to the sun.
2. Protect those eyes. Your basic polarized shades are usually adequate, but for someone like me, there isn't enough coverage. Sunlight gets into your eyes from around the frames. You could buy those ugly sunglasses older adults have to wear when they've had cataract surgery, but there are some great alternatives. I found mine at Walmart in the accessories department with larger lenses, wider sides, and stylish. They are full spectrum protective and fit over regular glasses without looking weird. A few brands are listed below with links.
3. Slather up. No. I repeat, No, baby oil!!!! Instead, using a full-spectrum sunscreen of 50+ is imperative for those with sun sensitivity. Chemical-based and light-reflective types abound. Some people love the ones with zinc oxide, while others hate it. You have so many brands available at differing price points. It's easy to find one. Don't forget the backs of ears, finger and toenails, lips, and bottoms of feet – if you are lounging by a pool.
4. Portable shade. I was impressed by how many people in Hawaii carried their shade with them—an umbrella. I call them sunbrellas. Do you remember the Victorian parasol? Those ladies were onto something! Now there are umbrellas with UPF 50+. Many of these can be found in your local discount stores, like Walmart, Amazon, and more.
5. Enhance your environment. As much as I love the view of nature from my large kitchen window, it is also a challenge in the afternoon. The sun streams in. Although windows have some UV light filtering capability, they don't keep out the UVB. Your car windows also don't have adequate UV light protection. There are many types of shades and curtains available that you can put up for your home windows. A special UV window tinting and clings for your car windows can also help.
As you find ways to protect yourself from the sun's harmful UV light, you will also protect yourself from skin cancer, an essential factor for anyone. The founder of UV Skinz shares on the website that she lost her husband to melanoma, so she started a clothing company to help people prevent skin cancer. We could all use precautions against something so preventable.I would love to hear how you protect yourself from the sun and other photosensitive issues vital to you. If you found something valuable here, I would love to hear from you! May God bless you!
UPF Clothing Companies
NOTE: I do not have affiliate links for any of these. Actually, I don't have any affiliate links at all, so I receive nothing if you choose to buy from them.
Columbia www.columbia.com  To find, simply type UV or Sun protective clothing in the search bar, or you can click on "benefit" and check sun protection. Sign up to become a member and get discounts, rack up points for $ off, etc.
Land's End www.landsend.com Search for UV protective clothing to find what they offer, which is a reasonable amount
UV Skinz www.uvskinz.com Sign up for their emails to get a discount on your first order.
Vapor Apparel www.vaporapparel.com I'm more acquainted with their products through Amazon and Walmart.com, but it looks like a good, fair-priced company.
Coolibar www.coolibar.com Sign up for their emails and get a discount off your first order.
Solbari www.solbari.com This is one of the more expensive companies, although not the most costly. Sign up for their emails to get a small discount. I ordered their products from Amazon.com.
Duluth Trading Company www.duluthtrading.com I like this company for more durable clothing. You will need to search for UV protective clothing to find what they offer, which is quite a bit. Sign up for their emails to get discounts, sales, and free shipping.
Dick's Sporting Goods www.dickssportinggoods.com They carry UV protective clothing as well. Type UV protective clothing in the search.
Sunglasses with excellent coverage, full-spectrum protection
Check here for more information about what to look for in sun-protective eyewear https://fsastore.com/learn/eligibility/how-to-choose-the-best-sun-protective-sunglasses
Solar Shield www.solarshield.com and Walmart.com I bought my sunglasses from Solar Sheild for around $20 a pair at Walmart.
Coolibar https://www.coolibar.com/accessories/sunglasses.html
Foster Grant www.fostergrant.com
Panama Jack https://panamajack.com/collections/sunglasses
As for Windows in your home or car, check with Home Depot, Lowes, Menards, Auto Zone, and Walmart. I haven't bought any yet, but I am looking for my home windows.
Resources for More Information:
Lupus Foundation of America https://www.lupus.org/search?_limit=10&_page=1&keywords=sun%20sensitivity&_sort=relevance&language=en
Kaleidoscope Fighting Lupus https://kaleidoscopefightinglupus.org/lupus-and-photosensitivity-when-the-sun-is-your-enemy-2/
Scleroderma News https://sclerodermanews.com/blog/2016/07/22/the-magic-of-summer/
Skin Cancer Foundation https://www.skincancer.org/skin-cancer-prevention/sun-protection/sun-protective-clothing/
Benaroya Research https://www.benaroyaresearch.org/blog/post/getting-outside-summer-autoimmune-diseases
Categories: health, special health conditions