| | |
| --- | --- |
| Posted on May 7, 2020 at 9:55 AM | |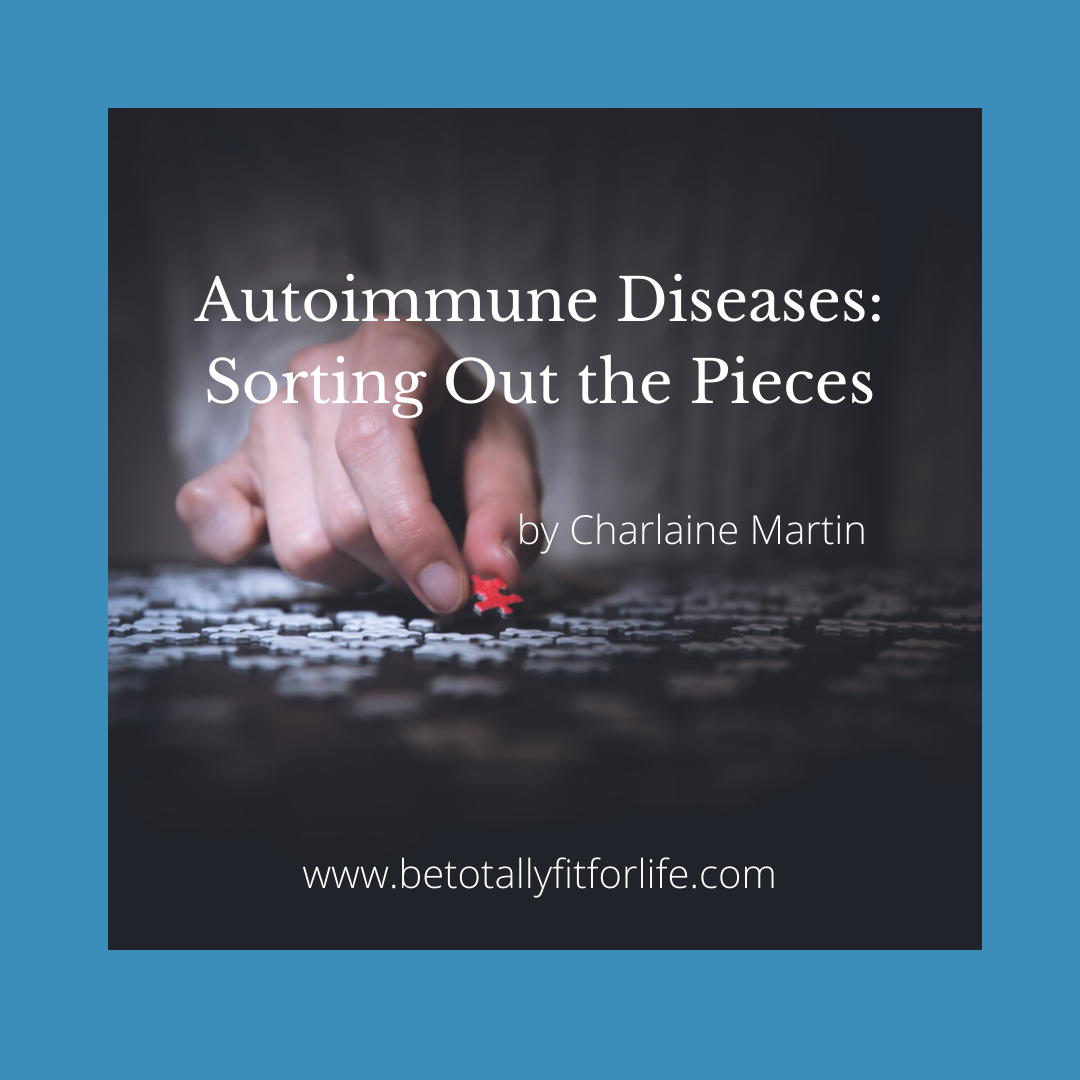 Photo by Ryoji Iwata on Unsplash
At the beginning of the Coronavirus Crisis, too much grabbed our time and attention that I found it challenging to focus on any particular health condition in March of April. So, I've decided to cover several in May to help you not only understand more about these conditions but share ideas about how to manage them better, if you have any of these. The original article, "Multiple Health Conditions: Sorting the Missing Pieces," appeared as a Story on The Mighty. In this post, I share my own story to illustrate the difficulty so many people with autoimmune disease and fibromyalgia go through to get the help they need. It is often fraught with frustration, misunderstanding, and begin treated like a hypochondriac. If you are one of those people, there is hope. 
Can you imagine how disturbing it would be to try to put a giant puzzle together only to discover not all the pieces belong to the same puzzle? It was frustrating for me, my family, and my doctors attempting to sort out the symptoms of my various illnesses. Huge frustration. My doctor seemed annoyed with yet another question about an odd symptom. She rolled her eyes. "Look, fibromyalgia is like that. You will find your new normal." With a quick note on her iPad, she ushered me out to the counter. I felt like my concerns didn't matter. Mysterious symptoms unrelated to fibromyalgia plagued me: muscle spasms in my heart, purplish-hot, swollen fingers and toes, visual distortions, an odd rash resembling ringworm, and more. Little did I know some of these pieces belonged to different puzzles in my body.
Sorting through the Pieces
We wanted to visit our kids and grandkids a few years ago. My hubby and I decided to fly his single-engine plane from Michigan to New Mexico, then Colorado, to see them. Periodically, I felt the uncontrollable urge to fall asleep for no apparent reason. I was a bit dehydrated, having to watch fluid intake since there isn't a rest stop at the nearest cloud. On the route between New Mexico and Colorado, more than 11,000 feet above the mountains, it felt like someone reached into my chest and started squeezing my heart as hard as they could. "Honey, I'm having chest pains," I puffed to get more oxygen while holding my chest, but could not. The air was thin at this altitude.
"I can't land the plane here. Hold on until we can get to the next airport," my pilot-hubby replied over the intercom. He squinted at me with concern. We found ourselves in new health territory. Up until now, I had only felt minor muscle spasms in my heart, more like quivers or tiny baby kicks, but not this terrible squeeze. The pain finally went away after several minutes. When we landed, we talked with our physician assistant daughter-in-law about it. She suggested talking with my doctor about the incident when I returned home unless it happens again. Then it would mean a trip to the emergency room. So, I followed her advice. My primary care physician (PCP) at home sent me to the local hospital for a stress test.
Everything looked great. No issues, except a random, skipped beat. It wasn't until a few months later that I visited a cardiologist. Still, it was mostly for the overwhelming exhaustion I experienced. At first, he was skeptical about whether there was an issue with my heart, at least, until I landed in the hospital with a coronary artery spasm that escalated into a heart attack. It resulted from using my Epipen for what I believed was a severe allergic reaction. Now I inadvertently received the attention I needed to deal with my heart and blood vessel issues. We all wondered where these puzzle pieces belonged.
Several symptoms didn't fit the original diagnosis of fibromyalgia; it seemed like I was gathering more pieces that didn't fit this fibro puzzle. I still had new joint damage, migraines, visual distortion, photosensitivity, easy bruising, an odd sensation around my heart, a sudden drop in energy, low blood pressure, low blood sugar, weight loss, and on and on. This frustrating pile of pieces needed serious attention if I was to regain even a portion of my life back.
Connecting the Right Pieces
I felt like one big mess. Some of my doctors treated me like a hypochondriac when they couldn't figure out what was wrong. Mixed Connective Tissue Disease—specifically, Mixed Collagen Vascular Disease—could be a rare disease due to misdiagnosis or dismissal of patients' persistent concerns. My body was strong and fit in my 50's. I was able to tackle what many in my age group would wave off, saying, "Nah. Go ahead and have fun. I'll sit back and watch." Now it was mush, barely able to handle basic living. I mourn my formerly active lifestyle and have to face the hard, cold fact I must find new activities that work with my limitations. But I still needed to know what I'm dealing with to receive proper treatment for the troublesome symptoms I continued to experience.
Puzzle 1: Allergies, Celiac, and Food Intolerances
Allergy testing helped tremendously, as did going gluten-free while avoiding foods that cause me misery. Instead of mentally "checking out" in the middle of a conversation with people, I began to take a more active role in discussions because I could mentally process what people said. Names and nouns slowly returned to my vocabulary. My head no longer felt like I was slugged in the back with a baseball bat. Some of my migraines disappeared. My belly stopped hurting. Although I have to be careful about what I eat, that puzzle has pulled together.
Puzzle 2: Fibromyalgia
What was initially considered fibromyalgia might have been the precursor to Mixed Collagen Vascular Disease, but who knows. Fibromyalgia is not an autoimmune disease, although it is often mistaken for several. I do have 16 of the 18 tender points, so currently, my medical team keeps that diagnosis in my charts. However, there are so many overlap symptoms; it is hard to tell the difference. The days I sat at the YMCA's pool edge with my hot, puffy, throbbing hands and feet cooling in the pool, I thought it was fibro. Maybe it wasn't. I've set that part of a puzzle aside for now since it is the least of my concerns.
Puzzle 3: Mixed Collagen Vascular Disease
I got tired of lying on the couch each day. Dizzy and about to pass out, I went for a walk in our neighborhood, hoping to raise my heart rate and blood pressure. I thought that if I passed out on the sidewalk, at least my neighbors who knew me would call 9-1-1. I made it, but it wasn't easy. When I got home, I trudged up the stairs with burning, heavy legs to take a nap. At least, I got my walk. No one seemed to have answers until I visited a rheumatologist in my area. She did the blood work that showed a positive ANA and RNP Speckled Pattern. This second test was new to me. My ANA had been positive since 2002. My first rheumatologist was the one who came up with the diagnosis of Mixed Collagen Vascular Disease. Still, she was not the one to continue with my care due to a worldview clash and inconsistent messages between her and her PA. Oddly my ANA was negative at my last visit with her. She seemed to have prejudice and looked for problems that didn't exist. I needed a doctor who could remain professional and consistent with my treatment, even if our beliefs were different. It was time to find a new rheumatologist.
The next one was more professional and compassionate—and my ANA showed positive again just a few months later. We began sorting through the remaining puzzle pieces together. "You have to avoid the sun," he stated firmly, referring to odd brownish patches on my face and arms. "Those discolorations on your face and arms are signs of photosensitivity. They are common with active autoimmune disease and your medication." Not only that, but I also discovered much more about this symptom. I had a severe reaction to the sun while visiting my daughter in Colorado. "You have to AVOID THE SUN. Treat yourself as if you have Lupus. You have so many Lupus symptoms without triggering a positive on the defining blood tests," his physician assistant emphasized. I had shown her a photo I took of odd, red splotches on my thigh that showed up after eating lunch with my daughter outdoors. This incident caused a sudden strange sensation around my heart, accompanied by overwhelming fatigue and distorted vision. It made me wonder if I should go back to the hotel to take a nap or go to the emergency room. Now, I know that I must wear SPF 50+, sun-protective clothing, a hat, and carry a sunbrella outdoors.
We still don't know why my Achille's tendon on one foot is so rigid compared to the simple stiffness of the other one. Mid-life causes me stiffness that works out after moving around for a while, but rigidness sticks with me a lot longer. Blood work hasn't revealed anything new, so that puzzle piece sits at the side.
Puzzle # 4: Lichen Sclerosis
After enduring a series of infections, my primary care physician said, "Your skin has a silvery look to it. I think you have lichen sclerosis." This condition was never on my radar. It is an autoimmune disease that attacks mucous membranes but can affect the skin on any part of my body. It might be the reason I get odd red circle patches on my arms and chest, which respond to steroid cream, rather than an antifungal cream. She gave me a referral to see a specialist for this condition.
"Yes, I agree with the diagnosis," she said in her thick Eastern European accent. She gave me a script for a potent steroid cream. This puzzle is solved! Working with my medical team, and eliminating the ineffective members, helped me figure out what I'm dealing with so I can receive the proper treatment. This lengthy process has helped me form a great team effort with my doctors.
 What Now?
I still have a few lingering puzzle pieces that need a home, but I have a better treatment plan and direction for my future health care. I will probably never be symptom-free because autoimmune disease is often like that. Now when I ask my doctors a question about something odd, they don't roll their eyes and ship me out of the office. Instead, they delve into solving my puzzles with me. My primary care physician has been fantastic about helping me coordinate information shared among my medical team. Putting the puzzle pieces together where they belong has been an 18-year process in my multiple disease journey. Still, my determined quest for effective treatment has been worth the effort.
Questions for discussion: Do you or someone you know struggle to find out what is wrong? Do you or that person get treated like "its all in your head," or like you are looking for attention? How can you ask questions and make reasonable statements to encourage doctors to take you seriously, and track down the problem for proper treatment? Feel free to comment below or email me at [email protected]
May God bless you!
Categories: None