| | |
| --- | --- |
| Posted on April 29, 2020 at 8:45 AM | |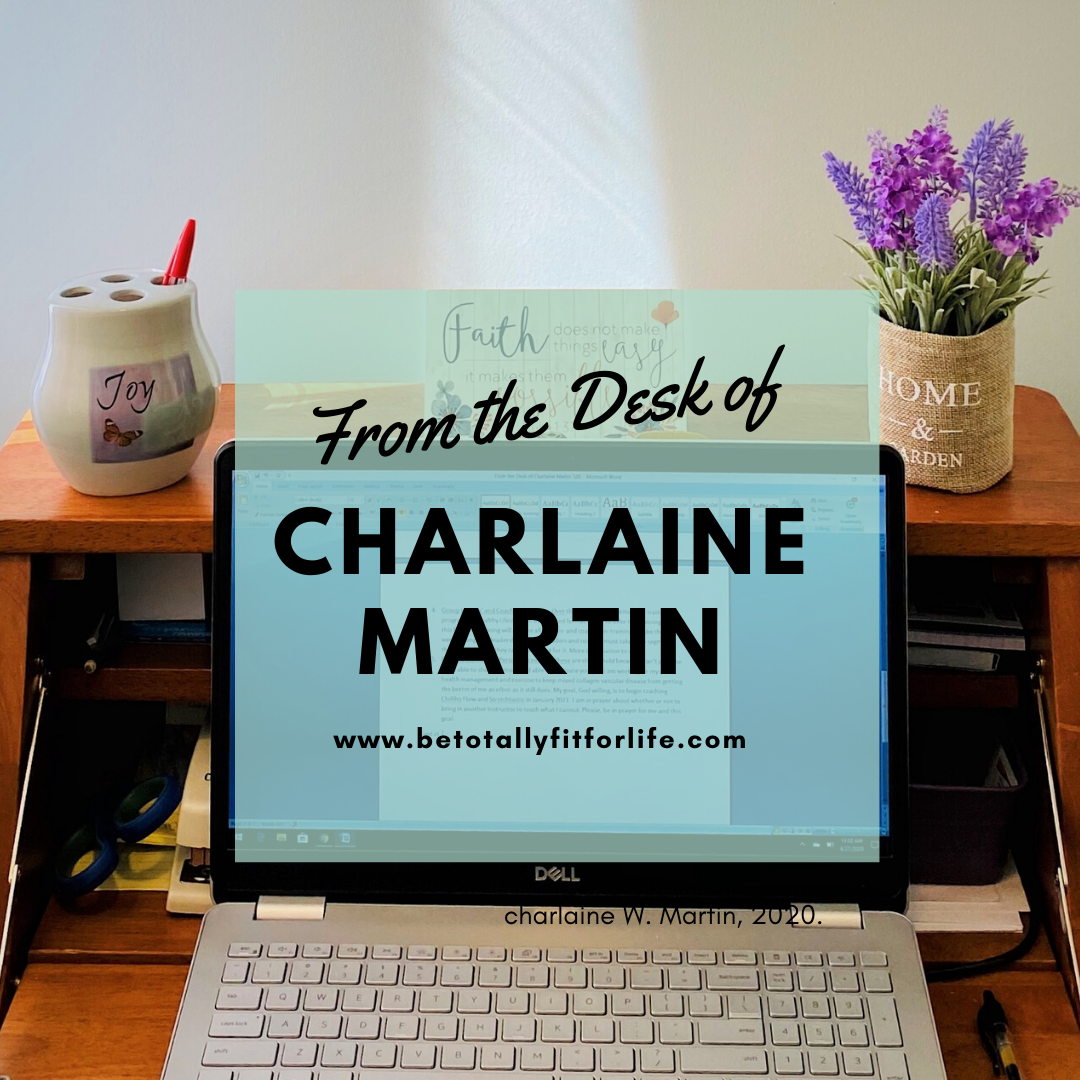 Photo by Charlaine W. Martin, 2020. All rights reserved.
How have the Stay-at-Home orders treated you over the past few weeks? Some people on social media have said they are well. Others are worried because of either health or loss of income. While a few have loved ones battling COVID-19 or succumbed to it. We have fared well here. My Boaz has been working from home. We still have an income, but there has been a temporary pay reduction. Otherwise, we have food to eat, a house, our family members are well, and each other. We've called and done Facetime with family and friends. Living in the country has its benefits. Certainly, God has blessed all of us in some way, either big or small.
What's Happening?
Due to the effects of autoimmune disease on me, I am restructuring Be Totally Fit for Life! God has not given me the signal to end it, but to re-evaluate how I minister through it. Here are some ways you will see this happen:
1. Parent website-- www.charlainemartin.com is now effectively running. You may have seen some blog posts over the past couple of months from this website. Be Totally Fit for Life! has a tab on it. I've been blogging from a Christian health, fitness, and wellness perspective since 2013. For the past seven years, I've been offering tips and devotions based on the physical, mental, relational, and spiritual perspective. I've also worked to dispel New Age health and wellness concepts that are so prevalent, not only in our nation but in our world. It's time for me to broaden my writing. The theme of my new website is "Life is Always an Adventure with God!"
2. Be Totally Fit for Life webpage— www.betotallyfitforlife.com will soon take you to a newly built webpage with fewer subpages, a blog, and links that will take you to my parent website www.charlainemartin.com that has the Be Totally Fit for Life tab and subpages. You won't have to do anything different. My daughter and I met remotely a couple of nights ago to put it together. She built the skeletal structure, and I will fill it in with content and appropriate graphics. I hope to roll this webpage out around July 1, 2020, God willing.
3. Refresh and Update Healthy Lifestyles— This 12-week Christian health and weight loss program has been hugely successful! I've been so blessed to walk alongside several people on their journeys since its inception in 2016. God has worked amazingly in the lives of the individuals who have been part of these groups and personal coaching relationships. I've kept the information and overall design updated, but the format and theme need a "fresh coat of paint." You will see a new name, theme, and other tweaks in the next couple of months.
4. Group leaders' and Coaches' Training— Over this summer, I am writing the training program for Healthy Lifestyles in its updated format. I plan to offer the training classes this Fall. This training will require all leaders- and coaches-in-training to take the first six weeks, along with leadership lessons. Leaders and coaches must take each segment themselves before they can be certified for it. More information to come.
5. Exercise Classes and Personal Training—These are still on hold because I can't promise to be able to show up ready and able to motivate you yet. I am working on my own health management and exercise to keep autoimmune disease from getting the better of me. My goal, with God's guidance, is to begin teaching ChiRho Flow and Stretchtastic in January 2021. Please, be in prayer for me and these goals.
New! Living the Disciplined Life Study
I am offering a new study for Be Totally Fit for Life! called "Living the Disciplined Life I" in May. n this free focus study, you will discover the ways God already has for us to be able to say, deep within your soul, "It is well with my soul." Sign-ups begin now. There are two resources I highly recommend having at your disposal through the study. If you are interested, email me. I will put you on my class list. You will receive valuable downloads for this study in your inbox. I will also give you information about optional resources to enhance your learning experience. Class size is limited.
When? Thursday, May 7, 2020, for six weeks at 7:00 pm CDT
and Tuesday, May 12, 2020, at 1 pm CDT
Where? Facebook more info will appear in your email when you register.
How much? FREE!
I look forward to embarking on this tremendous faith-building adventure with you!
Construction Zone
Read: Isaiah 48:5-7
Focus Passage: He who was seated on the throne said, "I am making everything new!" Then he said, "Write this down, for these words are trustworthy and true."
He said to me: "It is done. I am the Alpha and the Omega, the Beginning and the End. To the thirsty I will give water without cost from the spring of the water of life. Those who are victorious will inherit all this, and I will be their God and they will be my children.Revelation 21:5-8 NIV
Orange barrels will soon be popping up everywhere. Why? Because construction season is coming to highways and byways near you. Not because we grow orange barrels, but because our roads need to repair work. Do you realize we also need repair work? I think this Coronavirus Pandemic is one way God uses to remake us more and more into the image of Christ.
God may be the same yesterday, today, and forever, but He is never stagnant. In Isaiah 48:5-7, God calls us to put away worthless idols we have collected in our lives. We first have to admit we have them. Did you pick up a Zen practice from the latest yoga class? Admit it and put it out of your life. Did you get a sense of self-sufficiency, saying, "Look what I did?" when you should say, "Look at what God did"? Admit it and put it out of your life. He often clears out the broken parts of our lives through trials. God has something better, something new for you and me that will draw us closer to Him. We have a new life full of abundant blessings today, and a new eternal home that will never be taken away.
God is at work, and we will never be the same. Most believers I've talked with can see the blessings amid job losses, mental stresses, isolation, long work hours, and difficulties finding the food and supplies they need. Instead of complaining, they praise Him for families, homes, provision, and protection. Of course, there are concerns, but praying for God to take care of them is all we need to do. Heavenly construction cones are popping up all over in our lives. He has everything taken care of already, even when we can't see it yet. Let go of what isn't from Him to embrace what He has for you.
Questions for discussion: What is God reworking in you right now? What are you holding onto for safety and security that isn't God? How do you see Him clearing away debris to make you more and more into the image of Jesus Christ?
Feel free to share how God is changing you during this season with the Coronavirus crisis in the comments below or on our https://www.facebook.com/betotallyfitforlife/" target="_blank">Facebook page.
May God bless you!
Categories: devotions, health, wellness