| | |
| --- | --- |
| Posted on October 24, 2019 at 10:10 AM | |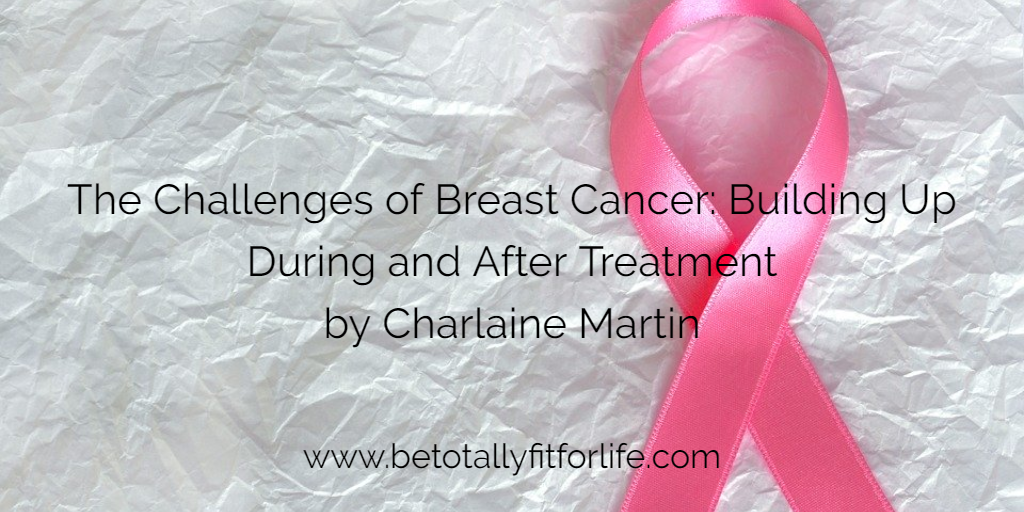 (And for Those Who Support Them)
As most of you know, I don't sport pink ribbons or pink anything for breast cancer. Why? Because I support survivors and their families regardless of the type of cancer. My family has been affected deeply by several family members and friends: my first husband, colon cancer; two aunts, breast cancer; uncle, bone cancer; friends, melanoma; friend, breast cancer; neighbor, colorectal cancer; colleagues, multiple myeloma; classmate and relative, blood cancers. Now you understand why I don't sport pink. But if you do, by all means, support your friend or loved one in this manner. Since it is Breast Cancer Awareness Month, I do want to help breast cancer warriors and those who support them in any way I can.
Victims-to-Victors of Breast Cancer
Cancer is a voracious beast! I became keenly aware of the awkwardness and struggles of women battling breast cancer and their families while working in health and fitness. SHLAP! SHLAP! went the rhythm of the swim coach's angry arms as he struggled with breast cancer threatening his wife's life. SPLASH, SHLAP!!! as he flip-turned, the swim fins spraying water onto the deck. It was as if he was slugging it out with cancer himself on his wife's behalf. She survived breast cancer. A couple of years of treatment later, her doctors pronounced her cancer-free. Cancer is never a single person's nemesis. It is a threat also to family, friends, churches, and communities.
Standing before me was a beautiful 40-ish lady who specifically asked for me to work with her as a Team Survivor member. She was anxious to get back what she lost to cancer with a scholarship from for six personal training sessions. She didn't look like a cancer victim/survivor, but she was. Her short-term memory suffered from the treatments, so I had to repeat everything in each training session as if it were her first. She feared lymphodema, so we trained her arms conservatively to avoid causing lymphatic drainage into her arms. Her progress was fantastic, so she paid for six more sessions to learn how to best continue on her own. I wish more of these amazing women were as fortunate as her, but each one sought to regain their abilities to do what they wanted and needed to do, lose weight, and feel more energized. Exercise elevates their self-image.
Benefits and Tips for Exercise During and After Treatment for Breast Cancer
***This should not be construed as medical advice; instead, it is for informational purposes only. Please, check with your medical provider before trying any new exercise program.****
Exercise is helpful for breast cancer survivors to reduce the chances of recurrence. No one knows why, but studies show a safe exercise program designed for breast cancer warriors not only reduces it coming back, but it increases the quality of life, reduces depression, increases daily function, and aids restful sleep. (BreastCancer.org 1) It may play a role in regulating hormones and insulin that stimulate cancer growth (cancer.org ,3) One tip my husband's oncology surgeon at the James Cancer Center in Columbus, Ohio told us regarding his colon cancer is chemotherapy drugs are stored in fat cells. As you burn fat, it releases chemo drugs into your system slowly, which helps fight cancer cells. You need to know what your doctor's recommendations  are for your exercise with your particular treatment plan. Radiation treatment, surgery scars, and breast implants make a difference in what exercises you do and how you do them.
These are exercise tips, according to BreastCancer.org(2) and Cancer.org(4):
1. Always warm up before exercise and cool down afterward. Use some dynamic stretches as part of your warm-up to carefully increase your range of motion. Scar tissue and stiff muscles need particular attention.
2. Avoid repetitive arm movements, especially overhead. You want to prevent overstretching and possibly causing damage. Wear compression for lymphodema to avoid swelling.
3. Focus on form, rather than doing more time, reps, or weight. Proper form is helpful for daily tasks.
4. Do Activities of Daily Living type of functional training regularly. It will enable you to maintain doing those tasks you need and want to do.
5. Do light to moderate level cardio exercise as tolerated. If you are in treatment, only doing endurance exercise like walking or riding a stationary bike for a few minutes at a time is adequate to increase your stamina and help you sleep better.
6. Rest as needed. Chemotherapy and radiation damages cells, both cancerous and healthy. As your body builds back, it requires energy, making your need to rest greater than before cancer. You can do short bouts of activity scattered throughout your day if that works for you. Otherwise, rest on bad days.
7. Hire a specially trained personal trainer for your cancer recovery. This professional will help you design a safe, progressive exercise program you can use for a long time. They will also give you modifications you specifically need for your workouts and to use in classes. Personal training for half-hour sessions at the beginning is usually adequate. When you finish your treatments, you may need one-hour sessions to build back to your normal levels of activity. Let him or her know your budget so they can work with you. Let family and friends know personal training packages make great gifts. Check Team Survivor for a program near you.
8. If chemo fog affects your memory, ask your trainer to give you written descriptions based on the ques he or she uses (my suggestion from experience). Ask if there are any online videos or photos of exercises in your program so you can remind yourself on days you work out on your own. If you have to ask your trainer for reminders more than twice on days you work out solo, then set an appointment. Also avoid interrupting them during a training session with someone else. Your trainer has other clients to train as well. When they are not working with someone, they are usually plotting exercise programs for clients and making calls to meet their clients needs. You are one of those clients, so please be respectful of their time as you would want others to do.
9. Always cool down and stretch after your workout. It will help you avoid soreness and stiffness later. It also helps reduce stress. Stretch for 15-30 seconds each area of the body, but if it is too much to hold for 30 seconds, hold it as long as you are able exhaling as you move into your stretch. Continue breathing while you hold your stretch. It if hurts, stop.
10. Even after you finish treatment and feel you can do your regular activities, get a maintenance workout program you can do for the long haul. Continuing exercise will help you maintain your function, while working toward a healthy weight if you gained weight. Make exercise and healthy eating part of a healthy lifestyle for life.
I recommend checking with Team Survivor at teamsurvivornw.org/programs/ to find a chapter in your area. You can connect with personal trainers and coaches who work specifically with women who battle various forms of cancer. I worked with a branch in western Pennsylvania.
A Quick Note to Those Who Love Breast Cancer Warriors
Cancer is tough on the victim and loved ones. My husband faced colon cancer stage 4 for four years. Walking through his diagnosis and treatment was painful for both of us. Sometimes I had to dress him or help him with bathing or going to the bathroom. I had to learn about his type of cancer, surgeries, and treatments because he struggled with his options. Sometimes, I had to ask questions that didn't come to his mind. I also needed to know what I would face with his care at home. Although he communicated well, when he was quite ill, I created a communication system with home healthcare and friends who came to spend time with him while I worked. When our daughter got married a year before he passed away, I had to step in to get the clerk to wait on him as he struggled with fatigue and pain. She was intent on avoiding him altogether. Love making with your cancer warrior wife may have to wait or change. Your breast cancer warrior will need you in so many ways.
You can support your warrior by letting her know you are with her every step of the way. Love knows no bounds, including the physical changes that come with surgery and chemotherapy. Learn as much as you can about the type of cancer she faces and the treatment plans so you can cooperate with her doctors. Encourage her when she feels like giving up because the fight is fierce. Help her choose a wig or head covering, but honor her choice to bare her head if she chooses. Advocate for her when she struggles to make choices or faces the ignorance of the people she encounters. Respect her needs and wishes sexually. 
Would you like to briefly share your cancer story or your caregiving story for your breast cancer warrior? Feel free to do so at [email protected] or in the comments below. Let us know how we can pray for you.
May God bless you!
Resources
1. "Exercise" by Miller, Roberge, and Bryan. June 22, 2019. BreastCancer.Org www.breastcancer.org/tips/exercise
2. "Exercise Safely"May 10, 2016. BreastCancer.org. www.breastcancer.org/tips/exercise/safe
3. "Moving to Help Reduce Your Risk of Breast Cancer" by the American Cancer Society. October 12, 2018. www.cancer.org/latest-news/get-moving-to-help-reduce-your-risk-of-breast-cancer.html
4. "Exercises After Breast Cancer Surgery" by the American Cancer Society. September 18, 2019. www.cancer.org/cancer/breast-cancer/treatment/surgery-for-breast-cancer/exercises-after-breast-cancer-surgery.html Note: This web article includes some great exercises and more tips than what I've included in my blog post.
.
Categories: cancer, health, fitness