| | |
| --- | --- |
| Posted on September 12, 2019 at 10:30 AM | |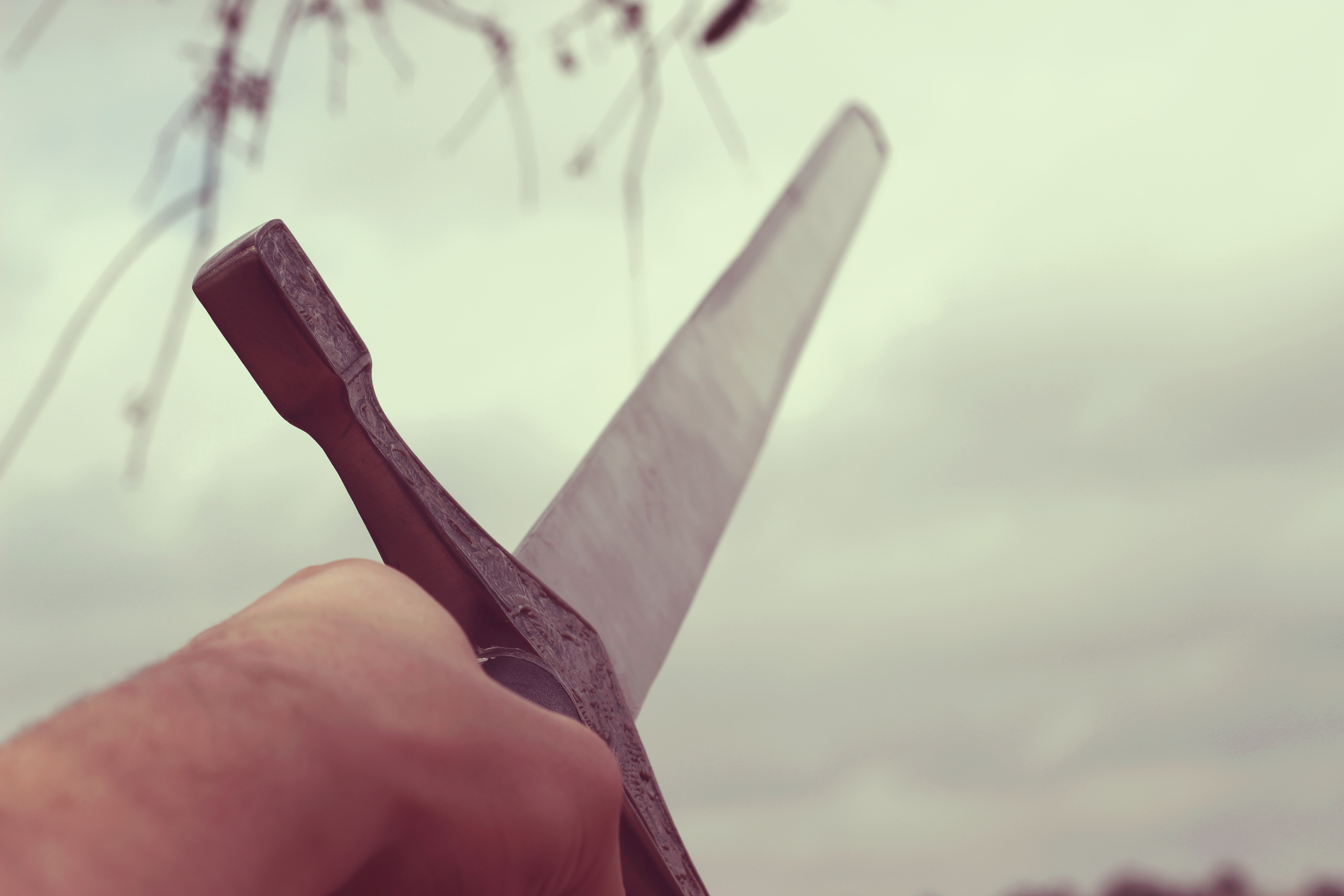 Photo by Brandon Rowe from Freely Photos. 
The past few days challenged me here at Be Totally Fit for Life! All was not well here. First, I noticed the hinge on my laptop caused a separation of the screen from the case, thereby cracking the bottom corner of the screen at the Windows logo. It finished fully cracking off the rest by the time I could take it to an approved repair shop. Sadly, it cost as much as buying a new computer because mine was out of warranty. We ended up buying a new one.
While that drama was going on, I experienced severe problems with my allergies over the past couple of weeks. It flared up my autoimmune conditions and knocked me down over the past few days. I later discovered our water was not hot enough, when I washed laundry, to kill dust mites. I woke up rashy with headaches and dizziness. We learned how to resolve the hot water problem, but now I've got a ton of laundry to re-wash.
My Boaz and I had a few verbal skirmishes during this time. Nothing huge, just misunderstandings mixed with stress. Someone once told us that building a house, especially doing it yourself, will either make or break your marriage. Personally, I think seminary rivals house construction, but not by much. At any rate, we've been able to step back and see the issues for what they are. Apologies make a world of difference!
My hubby has asked me on several previous occasions what I was writing that kicked up such an attack from Satan and his buddies. It dawned on me this might be the case with recent issues I mentioned at the beginning. Satan and his demons often attack Christians' relationships, health, and ministry tools. When they can't beat those who serve in ministry down, they will often directly confront and attack. Christian wellness is based upon our faith in Jesus Christ as Savior and how our faith can be lived out as a shining example with our ability to minister to others effectively.This time of the year is especially tricky. The good thing to know is God is greater than he who is in the world (1 John 4:4). He gives us the means to win these battles and skirmishes by the Blood of Jesus, the power of the Holy Spirit, and the sharpness of the Bible, God's Word.
Read:  2 Corinthians 10:1-6 , Ephesians 6:13
Focus Verse: "The weapons we fight with are not the weapons of the world. On the contrary, they have divine power to demolish strongholds. We demolish arguments and every pretension that sets itself up against the knowledge of God, and we take captive every thought to make it obedient to Christ." 2 Corinthians 10:4-6 NIV
Background
Paul confronted the Corinthian church regarding some believers from Palestine who lived worldly and encouraged others in the church to do likewise. They brought a "Sin Virus" into the church. Interestingly, they decided to focus everyone's attention toward Paul by projecting their own sin issues onto him and his companions. Their goal was to discredit Paul's apostolic authority. Essentially, a spiritual stronghold took root in that church.
Paul addressed their accusations of not only being timid in person but bold while away. He tackled allegations of boasting about his apostleship. He boldly confronted these accusers bluntly with the Truth: All power and authority he has come from God through Jesus Christ. He will boast in Christ. Nothing comes from him on his own as a vain pursuit.
What is Paul's secret to this deeply rooted problem? He was fighting a battle that is not from the world with the weapons God has given him which have to power to shut down the accusations made against him because of the power of God. This power demolishes arguments and every high thing that comes against the knowledge of God. He didn't get angry to beat them up verbally, instead brought every thought into captivity to the obedience of Christ.
In Ephesians 6, Paul told the church in Ephesus to put on the full armor of God that they may be able to stand in the evil day. We received an excellent set of armor with the Word of God as our offensive weapon and a Shield of Faith to quench fiery darts that come our way.
Consider This
Let me clarify some terms for you. First, a spiritual attack can come through weird circumstances and illness without a reasonable cause. It happens to people who are effective for the Lord, regardless if they are in vocational ministry or not. It is often known as demonic harassment, in many cases. Some demonic harassment can be direct confrontation by demons, often the case with Christians God has set apart for service, but not always. A spiritual stronghold is much bigger. It is usually comprised of several demons that attach themselves to a place or group of people due to the attitudes of a group of people. Territorial spirits attach themselves to a location, which I've not found the reason behind this phenomenon. It could be occult activity in the area or space. Demon possession is when a demon or group of demons live within a person, although the person is usually aware of what is happening to him or her. It may be due to this: the Holy Spirit and demons cannot occupy the same person, so it must mean that Christians cannot become demon-possessed. They often appear crazy but defy the diagnoses for psychiatric illnesses. C. Peter Wagner explains some of these in his book,s Prayer Sheild and Warfare Prayer.
I've been under some of these types of attacks before as a pastor's wife, in case you are wondering how my past week's events fit with this passage. Narcissistic lay leaders in the two churches set us up to fail as a ministry couple, even before we arrived. They projected their very issues onto us, causing people in these congregations concern about our fitness for ministry. They twisted our words, barely resembling what we actually said. We prayed, clarified, and confronted lies with Truth. As quieter people watched these scenes unfold, they were able to see what the situations really were. My first husband, the pastor of these troubled congregations, kept preaching the Truth of God's Word. His steadfastness heated up the spiritual squad fire. I kept praying for him and his elders, that the Truth be revealed about what was happening in the church. Even though there were faces in front of us, the source was the same: demonic attacks. A spiritual stronghold had it's grip on these this church.
I "accidentally" stumbled into a workshop at a Christian writer's conference about dealing with spiritual warfare. It was no accident. My cardiac event, along with several other incidents that made no sense, were all part of spiritual warfare which I learned partway through the leader's presentation. Formerly a military commander, now a Christian writer, the workshop presenter used military tactics to illustrate spiritual warfare and God's way for us to deal with it. He also recommended a book, Warfare Praying: Biblical Strategies for Overcoming the Adversary by Mark Bubeck. In this book, he tells of a woman having seizures and her husband, who struggled to help her. Nothing made sense medically. When Bubeck met her, he discerned spiritual activity in her illness. Because the seizures were so upsetting to the woman, Bubeck told both of them to do this: her husband was to challenge the evil spirit, "In the Name of the Lord Jesus Christ and by the power of His blood, I resist any spirit of darkness that is trying to cause my wife to have a seizure". I forbid you to do it. I command you to leave our presence and to go where the Lord Jesus Christ sends you." (p. 39) Eventually, after several times doing this, and with his wife also doing her best to say the same, she was free of seizures. God often leads us to learn about these spiritual encounters and how to deal with them.
This method is not an uncommon way of confronting evil. Chuck Swindoll, in his book, Hand Me Another Brick, talks about confronting evil with similar words. Also, in The Gift of Seeing Angels and Demons by Susan Merritt, a book about spiritual discernment used in intercessory prayer, the writer shared how she often found herself waging spiritual warfare for herself while praying for others. These encounters were sudden and of an unexplainable origin (loc. 1838). She would praise God out loud using His Names mentioned in the Bible (loc. 1804), silently pray, then confront the evil presence with status in Christ Jesus and having her name in the Book of Life, she had the authority to bind and cast away such demons in the Power of Jesus Name (loc. 1914). She gives this example, "In Jesus Name, and by the Blood of Jesus Christ, I command you, Satan, and your emissaries, to leave this place. You have no authority here. We belong to the Lord Jesus Christ, King of Kings, and Lord of Lords." (loc. 1930) She goes on to say to follow up by asking God for a hedge of protection from God and for Him to bind the Enemy. Always praise God. As an intercessor, she often found herself under attack. She called upon the power of God to defeat the Enemy for herself and the leaders for whom she prayed. She used Scripture in all of these instances. Only believers in Jesus Christ, washed by His blood, can wage such warfare. This battle is certainly not for the faint-of-heart Christian nor is it a silly game. We are fully equipped to do battle, but the battle is the Lord's.
How to Deal with Spiritual Attacks and Tear Down Strongholds
So I didn't deal with a confrontation from people recently, although my hubby and I had some arguments that made no real sense. The attacks were genuine, though. I discovered while trying to set up the new computer that it got stuck in one part of the initiation process. Nothing I did worked. I gave up by shutting down my laptop down to deal with it the next morning. I powered it up at breakfast, but the same screen stared back at me. Shut down. Start up. Shut down. Pray over it. Start up. This last time, I told Satan and his demons to back off in Jesus' Strong Name. I bound these spirits and told them to go where Jesus sends them. Why would I do this? Because it was worth a try. It the problem is demonic in nature, it works. If not, the problem would persist, and I would have to find the solution elsewhere. Guess what? It worked! I started it back up with a new screen and walked through the setup process from start to finish. Ta-da! I am up and running. Praise God!
As for arguments, we agreed God's Word has the final say. I've been working on a shadow box with our Cord of Three Strands from Ecclesiastes 4:12 and some of our small wedding decorations and God's Knot. It reminds us Who is at the center of our marriage. So far, no more arguments. I've also prayed the Blood of Christ over our home, property, and marriage. I have crosses and Bible verses throughout the house, not as a lucky charm or talismans, but as a reminder to all who enter our home Who is the real Owner of all that we have. Even demons know Scripture and acknowledge God's sovereignty (James 2:19, Luke 4:1-13, James 4;7). Everything we have and are have been marked out and staked out for God.
Allergies were still plaguing me for no apparent reason. I got disgusted with the headache and vision distortion by taking Aleve to reduce inflammation. Then it occurred to me to try telling Satan and his buddies to take a hike in Jesus' Name. Remember, if it's a demonic thing, this will work. It took a bit longer but finally subsided. Usually, when I take Aleve for this, some of those allergy issues are still there. They went away for now.
Here are your take-aways:
1. Always stay rooted and grounded in Christ through prayer, Bible study, and living out the words of Jesus.
2. If there is no reasonable explanation, it could be demonic. Do look for feasible solutions, but if those don't help, begin praying about the situation.
3. Never try to drive away demons with anything else (Luke 11:14-26). Never try this if you don't know Jesus as your Savior (Acts 19:13-16). Put away anything you've been using to "clear out negative energy."You may be inadvertently inviting these spirits to make a home, that is, setting up territorial spirits. If you know Jesus, His power and authority are what you have available along with the Truth of God's Word and Faith. Suit up! Put on your armor (Ephesians 6:13).
4. Confess your sins. Sin hinders our prayers as does unforgiveness (1 Peter 3:7, James 4:3, Proverbs 28:9, Mark 11:25, Psalm 66:18 ). A clean heart is open to God's direction.
5. Pray for God's discernment and guidance. We cannot discern spiritual activity without the Power of the Holy Spirit. He will guide you in all Truth (John 16:13).
6. Confront evil with the Power of Jesus Christ's Strong Name. This battle belongs to the Lord, so let Him fight it by using His authority which He gives us to use (Luke 10:17-20).
7. Bind the enemy and send him (or them) away where Jesus sends them. Remember that Jesus sent Legion into a herd of pigs (Mark 5:1-13). ! If you don't bind demons, you could be hurt. Don't get into a discussion with evil. It is essential to tell it (or them) to be still and go where Jesus wants them to go.
8. Confront spiritual strongholds with God's Word, fasting, and prayer (Ephesians 6:17, Hebrews 4:12). You could end up in vain arguments if you don't, like throwing gasoline onto a blazing fire! Fast and pray, then confront with Truth.
9. Always Praise God! The battle belongs to the Lord, so we are calling on Him and His heavenly angels to wage war for us. Never call on angels because the holy ones follow God's command. Demons will often pretend to be God's angels, doing what you ask to get you to trust them, which leads to serious problems.
10. NEVER attempt to deliver someone who is demon possessed on your own and if you don't have the spiritual gift of deliverance. Pray instead for protection for yourself, tell the spirits to be stil and leave you alone, then ask God to bring the right people, yes, PEOPLE with the specific gifts to help this person.
This issue is very much a part of Christian wellness. If all is not well, then prayerfully ask God to reveal the source of the problem. As you consider a time coming with greater attention to the unholy, be ready to deal with demonic activity with God's power and the blood of Jesus Christ, which bought you from slavery to sin and gives you eternal life. My God bless you! 
Resources:
The Gift of Seeing Angels and Demons: A Handbook for Spiritual Discerners by Susan Merritt, PhD. Copyright 2016 by Susan Merritt, PhD. Electronic version.
Warfare Praying: Biblical Strategies for Overcoming the Adversary by Mark I. Bubeck. Copyright 1984 The Moody Bible Institute and 2016 by Mark I. Bubeck. Moody Pubishers, Chicago.
Zondervan NIV Bible Commentary Vol. 2: New Testament by Kenneth L. Barker and John R. Kohlenberger III. Copyright 1984 by the Zondervan Corporation. P.p. 689-691.
Categories: wellness, Bible Studies, devotions