| | |
| --- | --- |
| Posted on May 30, 2019 at 8:40 AM | |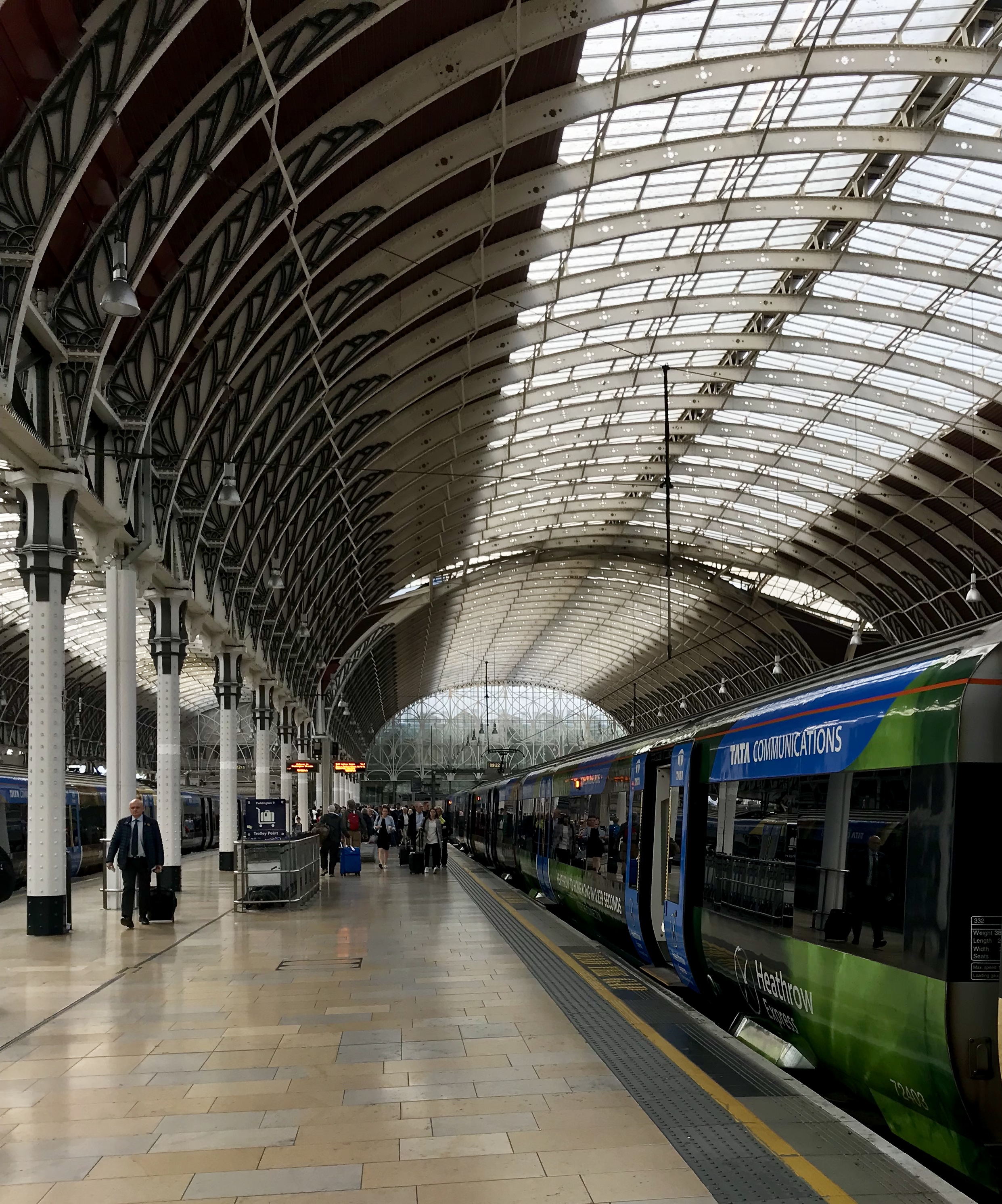 Photo by Charlaine Martin. All rights reserved.
Last week, I shared briefly about active transportation and how it helps people stay more physically fit. This week, I would like to dig deeper into this topic and help you find ways to put some of these principles into practice.
My hubby used to run regularly, including running 5ks. He also loves riding 20-25 miles with me on the bike trails. I enjoy fitness walking, swimming, yard and garden work, and regular workouts in general. He hasn't been as active since he hurt his back and knees although he began regularly using his elliptical. Our trip, using active transportation, challenged us differently.
Our Discoveries with Active Transportation
First, I bought a great pair of Asics at a store going out of business for a phenomenal price, so I took them with me. Those shoes proved to be my go-to shoes! Walking on concrete and pavement changed the shock absorption of the foot strike phase of walking, and once, running. Without the shock absorption of the walking surface, it wears out the muscles in your lower body quickly. It will also cause considerable wear and tear on your joints, so proper footwear that absorbs shock is vital. I'm used to our floors having either hardwood or ceramic tile on wood with grout that has some flexibility to it. Exercise equipment is designed to reduce the shock on your lower body. The force makes the exertion in the push off phase higher. To sum it up, we felt our day-long workouts, and our Apple watches told us how much energy we exerted each day.
Second, we covered more mileage than just purposely exercising. We rode the Tube (subway), so we had to walk a few blocks to the station, go down several steps, walk through the station, then wait for the train. When we got off, we followed the Map app on our smartphones to get to our destination, which meant we walked several blocks. In some cases, a destination was as much as 1.5 miles away from our station. We discovered we could be more effective at using the transportation system by finding stations closer to the attractions we wanted to visit. Any time we needed to take different rail lines, it means more stairs and quite a bit of walking. On our most active day, I covered 10.7 miles, recorded 22,370 steps, "exercised" 38 minutes (cardio exercise), and climbed 13 floors on steps.
Compare the Stats

I burned a total of 2,045 calories without intentionally doing exercise! Comparing the stats against that active day, I used to do that much working in gyms with my personal workout added to it. I looked at a random active day before vacation without purposeful exercise. On that day, I covered 5.3 miles, recorded 13,329 steps, "exercised" 22 minutes, and climbed 27 floors on steps in our house. I also burned a total of 1,880 calories. One interesting difference to note between the two: I had 3 hours and 19 minutes deep sleep during active transportation on vacation compared to almost no deep sleep during an average active day before vacation! People with fibro don't get much deep sleep, so you can see how more effective activity can help a fibro warrior get that valuable phase of sleep. The difference in calorie burn was 165 calories in favor of active transportation! I also doubled my mileage. Active transportation is incredibly valuable to increase health benefits and fitness levels.
Stay Hydrated
Active transportation increases your awareness of food and fluid intake. On the negative side, we found ourselves slightly dehydrated. We needed to purposely take a bottle of water with us, but restrooms are not readily available in large metroplexes like London. We found this out when we visited Washington, D.C. a couple of years ago. We learned where clean restrooms were located so we could adjust our fluid intake. Riding the subway also is not an appropriate place to eat, honestly. It is better to eat before or after boarding especially if you have to stand (sometimes seats aren't always available). I noticed most of the regular Tube riders weren't overweight in general. Now, keep in mind that buses drop people off closer to their destinations, which means they don't walk quite as much, but definitely more than if you commute by car.
Unexpected Benefits
Riding the Tube while standing causes your body to build and strengthen stabilizing muscles from the core down. The trains twist turn, bump, and tilt. Your back, hips, knees, ankles, and feet benefit greatly from it. The concern about standing on the Tube was hanging onto handholds above the head for long periods of time reduces blood flow to the arm and hand while stressing the shoulder joint. Someone with fibro shouldn't do it unless absolutely necessary. Also, holding onto a bar can stress the joints in your hands. People living with arthritis in the hands might want to change hands from stop to stop to reduce the wear on their hands.
Other Observations
Another perspective on Active Transporation is that of riding bikes or using scooters (stand and push with one foot-type). There were protected bike lanes everywhere. We also noted rental bikes everywhere. The cyclists ranged from business people in suits to hardcore riders in riding gear. These people exercised more and gained better cardiorespiratory endurance. Their weight was reasonable for their genders, ages, and heights. I didn't see an overtly overweight person riding a bicycle. Besides, you can't eat while you ride! The downside is traffic can be hazardous. Vehicles can turn in front of a cyclist. A pedestrian can step in front of a cyclist causing an accident. It is the most cost-effective transportation hands-down.
General Health Concerns about Active Transportation
According to City Lab, the air quality s in the London Underground is worse than in traffic. The rails have been electrified, but people are in a closed space with recirculated air. The braking of the trains puts particulates into the air. Brake wear, whether on the streets, subway, or rail systems, causes upwards of 55% of the emissions in the air with electrified vehicles. There is also dirt and debris that swirls around in people's faces when the train breezes by the platform. We often had dirt particles get into our eyes. The debris can be hard on people's lungs, and I would guess, troublesome for people with asthma. We noticed scratchiness in our throats and stuffiness in our noses by the end of our vacation. The cyclists with face masks were wise. Maybe Tubers should do the same thing.
How Can You Benefit from Active Transportation When You Don't Live in a MetroPlex?
You can create your own active transportation health effects without the hazards. We do love our independence with our cars, but our health takes a hit at the same time. You can create your own benefits of active transportation wherever you live. Here are some general tips to remember when doing this. If you cycle, always take a good bike lock system to park your bike. Know the hazards along the routes you plan to take. Carry pepper spray for safety against thieves, harmful people, and aggressive animals. Keep your smartphone handy to call for help, navigate, and track your activity. Safety is a top priority.
Here are some ways you can build in your own active transportation:
1. Walk, cycle, or rollerblade on the hike and bike trails from place to place. Bike and hike trails link cities and towns. You can find where these trailheads are and where they go by checking www.traillink.com. Use a backpack or bike carrier to carry what you need to take or buy. If you have young children, get a jogging stroller or child bike trailer to take them along.
2. If you live in town, leave your car parked at home and walk to the store, doctor's office, etc. The emissions levels are much lower in smaller cities, villages, and rural areas. Use a wheeled carrier to put groceries in to take home. Use a backpack to carry anything you need to take along.
3. Use park and ride to go to work. You can drive to a location where you can park your car and take public transportation.
4. If you live in rural areas, you need to consider the safety of the main thoroughfares. Learn the lesser traveled roads and their particular hazards. Take pepper spray for dogs who like to chase bikes or may come after you when you walk. Again, use a backpack to carry your necessary items. Have a bike carrier to carry groceries with you.
5. Take the stairs instead of the elevators. To learn more about the health benefits, check out Very Well Health.
6. Park at the furthest points of parking lots to walk to your destination.
7. Use MapMyRun to keep track of your activity and the pathway you used. You can also use Life360 to let others know where you are when you travel by active transportation or set up your own. If there is a problem, they will be able to see where you've been and where you should be. You can turn the location tracker off whenever you want, but be sure to turn it on before you go.
Make your day work for your health as much as you can. The benefits are enormous!
Feel free to share ways you build activity into your days in the comments or on Facebook. May God bless you!
Categories: weight loss, health, fitness