| | |
| --- | --- |
| Posted on January 31, 2019 at 11:15 AM | |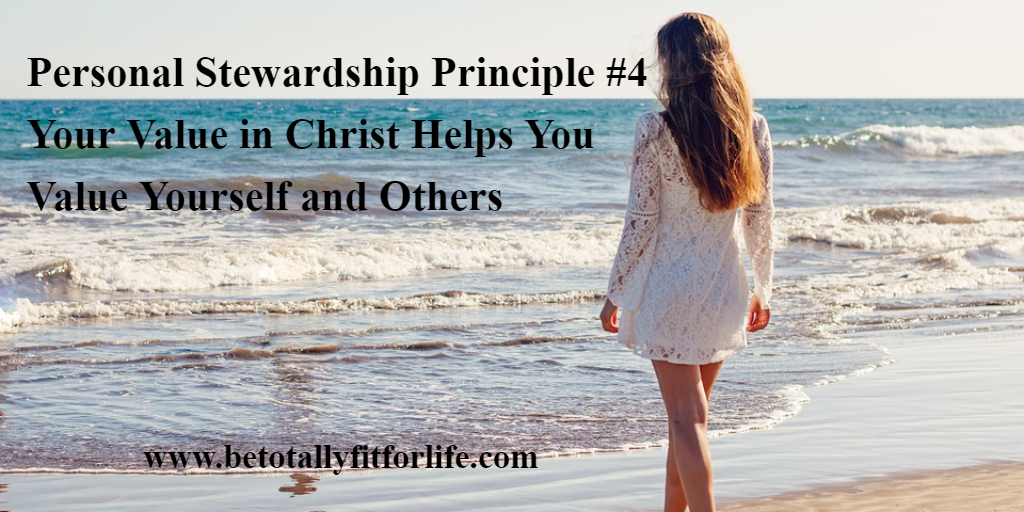 Photo by adamkonter from Pixabay.
I forgot something valuable in my last post: the purpose of taking care of your health. This week's post ties into that issue.
Over the years of working with clients with weight loss and health improvement goals, I've noticed a lot of people with poor self-images. The internal messages running in the background sound something like this: "You're fat and worthless. Nobody will love you like this. What a slob you are." These messages are well-founded on what people have told them. Many have been through horrible divorces, job loss, bullying, and more. These people God created have been through terrible verbal and emotional abuse. No wonder they felt worthless. Nothing could be further from the truth. Each person is a unique, one of a kind creation by God, the Master Designer. When we begin to understand the truth of our value, we begin to reflect the image of Our Savior.
A 30-something couple stepped into my officde for afitness evaluation and exercise program. They were both large, between 75-100 pounds heavier than most people in their age group. As I measured and weighed each of them, I found out they were in pastoral ministry together. When I took their blood pressures, I was shocked at how dangerously high they were. I told them, "I can finish this portion of your evaluation, but I can't do the fitness portion until I have clearance from your doctor. In the meantime, you are welcome to do whatever you want here, but I would caution you to only do what is no more strenuous than walking." They agreed, finished what we could do that day, then they walked the track afterward. Something I noticed about them as we talked: Their self-value had taken a beating in ministry. It was evident in their health conditions. They did get the clearance and finished the evaluation to get the exercise program that was critical to managing their blood pressures. It grieved me to see God's servants battered down. I thoroughly understood because my first husband and I had been through the mill in churches. As they continued their exercise, they improved not only their health, but their view of themselves. I was privileged to be part of that revitalization in their hearts and souls.
This truth is hard to bring across to women who have been beaten up for their weight, appearance, or just because they were in the wrong place at the wrong time. I remember teaching self-defense workshops for young women exiting the foster care system. Some of them were bold, brash, and loud. Others were timid, almost child-like in their appearances and behavior. When I shared my testimony and the truth of Psalm 139, tears trickled down some of their faces. Only once did I have a young lady so angry,literally in my face, telling me I had no clue because I hadn't been through what she had experienced. As calmly as possible, I shared more details about my life explaining that it doesn't matter where you live, bad is bad. It affects us deeply, to the very core of our being. God sent Jesus to die on the cross to pay for our sins (those angry thoughts, hurtful words, and the bad deeds we commit) and rose from the dead to offer us new life. I told her how my life was changed as a result of accepting Jesus as my Savior as well as what my life could have been like without him. I asked her if she would like to live a new life. She said she would think about it. Later that week, one of the social workers at the half-way told me she accepted Jesus as her Savior. She finally understood that she was so valuable to God that He would go to the cross for her. I literally cried tears of joy to hear such great news!
Here is the truth about our value: we cannot fully comprehend our value apart from the Gospel. In Matthew 22:36-40, a lawyer asked Jesus which commandment was most important. His response was, "Love the Lord your God with all your heart, with all your mind, with all your soul, with all your strength. The second is like this: Love your neighbor as yourself." When we learn to love God, we are opened up to the tremendous love He has for us. Without that understanding, we cannot comprehend our value nor the value of other people.
John 3:16-18 says, "For God so loved the world that he gave his one and only Son, that whoever believes in him shall not perish but have eternal life. For God did not send his Son into the world to condemn the world, but to save the world through him. Whoever believes in him is not condemned, but whoever does not believe stands condemned already because they have not believed in the name of God's one and only Son." To accept his loving gift of salvation is the beginning of loving Him and ourselves. To reject Him is to despise Him and ourselves, because we don't trust His Word nor His ability to love us so much.
Lets look back to the Matthew passage. Once we love Him, we are able to love others as ourselves. We hate ourselves because of the lies we've been told. As hated people, we follow the path of hate. But when we follow the path of Love because God is love, we are freed from self-loathing to be able to care about ourselves and others.
The notion of self-care seems self-indulgent to many Christians, but if we don't take care of ourselves, it will be much more difficult to care for others as God would have us do. So when you consider last week's blog post, we will feel worthwhile to feed and care for our bodies to avoid illness and disease. The same awareness makes us want to help others. Most health and fitness pros have been in your shoes. We have been overweight, out of shape, and unhealthy. We have done damage to our bodies that caused some of our health problems, or at least, setting ourselves up for lifestyle-related illnesses. We've drowned our sorrows in food and laid around in depression. We fell for the lie that we were worthless. But in my case, Jesus picked me up and told me I am His child. He tells me that He loves me. And He loves you, too. When you know the truth, you are free to love Him, yourself, and others fully. You are free.
 I would like to challenge you to write Psalm 139:1-18 and John 3:16-17 down where you can see them every morning. Read them and offer thanksgiving and praise to God for who He has created you to be! If you have never had the opportunity to accept Jesus as your Savior, I invite you to pray something like this:
"Jesus, I fail in so many ways. I am a sinner and I'm sorry. Thank you for loving me and dying on the cross for my sins. Please, come into my life. Make me whole and healthy. I love you and will follow you all of my days. Amen." 


If you prayed that prayer, email me at [email protected] I would love to rejoice with you and celebrate your re-birthday with you!
May God bless you!
Categories: relationships, wellness, health